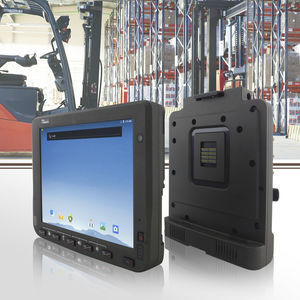 No product better represents Acura's expertise and experience than the forklift-mounted computer. Years of development and attention to customer feedback have yielded reliable, adaptable forklift computer systems that provide maximum efficiency for your warehouse operations.
Select from an array of mounting options that accommodate either sit down or stand up platforms for forklifts and reach trucks. Consider a range of power supply alternatives, options for screen size and brightness, and input and output connections. Find safety features such as automatic screen blanking that minimize distractions while the forklift is in use. Expect durability without sacrificing performance from our rugged computer products.
With the right hardware in place, onboard operators—their credentials verified by the system—will gain access to picking and routing instructions, messaging, and GPS and active asset locating. The result is an integrated fleet with real-time knowledge of inventory and where it's headed. Our legendary customer service means your rugged computer system will be customized for your needs and can grow with your business.