Rugged Mobile Computer or Rugged Laptops in a vehicle?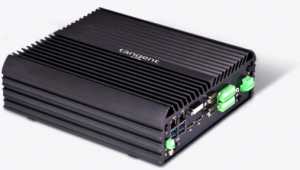 More and more rugged computer systems are installed at police vehicles, fire trucks, and ambulances compared with rugged Laptops. Why?
Specifically designed for vehicles 
PowerBrick is a rugged mobile system, that comes with a modular design compared with tough laptops.  Customers have the option to better customizing the component. They can choose the size and type of monitor, a mounting designed solution, and other special features of computers.  With a connected camera and installed GPS, you can always in the car and go for critical live applications such as digital video and AcuVision surveillance systems.
Withstand extreme temperature and harsh environment
Rugged mobile systems are designed to resist high/low temperature, moisture, dust, and vibration.  Without heater and fan, rugged computer systems achieve this level of durability by reducing moving parts inside computers and adding innovative elements to the design of the hardware.  For example, the rugged aluminum case is designed as a heat sink to reduce the possibility of overheating while the hard drive sits on four floating pins that protect it from vibration damage.
Cost savings and easy maintain owing to unique product upgrade path
Rugged mobile systems can be completely upgraded according to the development of technology.  For example, when you find your processor ran slowly, what you have to do is to send back the computer to the company for upgrade under the cost just for the processor instead of the entire unit.  The budget is within your control and you could not do it with a laptop.
Ergonomics and mounting options allowing for a safe and healthy environment
Rugged mobile computer can be installed inside the glove box, under the seat, or in the trunk of the vehicle.  The monitor is mounted in the center of two front seats and outside the airbag zones. The keyboard can be mounted articulating arm in order to keep the user from having to bend and twist the excessive angles.  It is also removable in order to mount the keyboard on the lap for typing.